Your English school of choice in the heart of Ireland
Our international English school in Kilkenny, Ireland offers English courses to adults (18+ years), both as private lessons and small group instruction. We also offer English Camps to kids & teenagers (12-17 years) and young adults in three course locations across Ireland.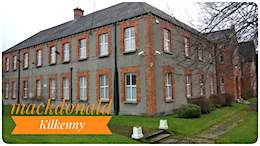 Our school in Kilkenny, in the South-East of Ireland, enchants our visitors with its Irish charm. Kilkenny has a wealth of history and a colourful culture.
Kilkenny is full of traditions and customs and these, combined with modern advancements, make our course location a highly attractive travel destination. Learn English and experience Ireland...
The English spoken in Ireland is clear and very easy to understand. The medium-sized town of Kilkenny is very safe and there are many attractions to see and explore.
We aim to help our students improve their English learning skills in a friendly and stimulating atmosphere by providing an extensive educational and cultural programme. We ensure that all our students' needs and wants are clearly understood and met at all times.
Studying English the Irish way is an experience you will always remember -
Book your course with mackdonald language academy!